You may have come across this well-known saying: "Communication works for those who work at it."
Well, let us add a word—business—to the beginning of that saying. 
If you plan on doing business in an unfamiliar land, you must prepare yourself accordingly in order to enjoy tangible results. Failing to prepare yourself, on the other hand, can be detrimental to your business venture! 
With this in view, if you intend to set up a business in Pakistan or plan to visit the territory for the sake of a business commitment, you must learn some commonly used Urdu business phrases. Even a basic understanding of the business language of Pakistan can make your time there more productive.

In this article, UrduPod101.com will introduce you to some inevitable Urdu phrases for business that you can start practicing today.
Table of Contents
1. Choosing the Right Pronoun – آپ vs. تم 
Before we go into detail about Urdu business phrases, there's an important topic we need to cover. 
In the Urdu language, there are two words for the pronoun "you": آپ (aap) and تم (tum). Now, the responsibility of choosing the right one rests on your shoulder. 
Which one you use depends on your level of intimacy with the other person. To address your interlocutor formally, you will use آپ (aap); once you become closer to and more familiar with that person, you can always use تم (tum).
2. Greetings and Goodbyes
Let's start simple and learn the basic words and phrases you can use to greet and bid farewell in the Pakistani business sector. Whether you're leaving after a business meeting or starting a conversation with a coworker, these three phrases will be invaluable to you.
السلامُ علیکم
assalam-o-alaikum
"Peace be upon you."
This first phrase is the best way to start a business conversation, wherever you are in Pakistan. It can also serve as an acceptable way to close a meeting or conversation; however, we'll give you another, more common closing phrase at the end of this section.
آپ سے مِل کر خوشی ہوئی۔
aap say mil kar khushi hui.
"It is a pleasure to meet you."
After you've greeted someone with السلامُ علیکم (assalam-o-alaikum), you can add this sentence as a token of courtesy. Doing so will ensure that the meeting takes place in a friendly business atmosphere.
خدا حافظ
khuda hafiz
"May God be your protector."
This phrase can always be used as an appropriate ending to your conversation. It's almost as popular in Pakistani society as "goodbye" is in the West.
3. Nailing a Job Interview in Urdu
One of the first things one must consider before doing business in Pakistan is how to land a job. 
The job interview is one of the most important steps in attaining work, acting as the gateway to the next level of your career. But here's the catch: You need to leave a good impression on your interviewer. 
To do this, you must prepare. We recommend learning as many relevant business phrases as you can before the interview date. Being able to conduct at least part of the interview in Urdu will show your interviewer that you're serious about wanting the job, and that you're a willing learner.
Below are some common questions and answers during a job interview. They may seem difficult to navigate at first, but with enough practice, they'll bring you miraculous results.
A- Education
Most employers are curious about candidates' level of education, and may ask questions about where you went to school and what you studied. Following are some questions you can expect to hear, and possible answers to them. 
Questions
آپ کی تعلیمی قابلیت کیا ہے؟
aap ki taleemi qabliyat kia hai?
"What is your qualification?"
کیا آپ مجھے اپنی تعلیم کے بارے میں بتائیں گے؟
kia aap mujhay apni taleem kay baray mein bataein gay?
"Will you tell me about your qualifications?"
آپ نے کون کون سی ڈگریاں حاصل کر رکھی ہیں؟
aap nay kon kon si digrian hasil kar rakhi hain?
"Which degrees have you achieved?"
Answers
میرے پاس کامرس کی ڈگری ہے۔
meray pass commerce ki degree hai.
"I have a degree in Commerce."
میں نے بزنس ایدمینسٹریشن پڑھی ہے۔
mei nay business administration parhi hai.
"I have studied business administration."
B- Professional Experience
In some professions, employers care even more about your professional experience than your education. Be prepared to discuss this aspect of your career with the interviewer.
Questions
آپ کا پیشہ وارانہ تجربہ کیا ہے؟
aap ka peshawarana tajarba kia hai?
"What is your professional experience?"
کیا آپ مجھے اپنی گذشتہ ملازمتوں کے متعلق بتا سکتے ہیں؟
kia aap mujhe apni guzishta malazmaton kay mutaliq bata saktay hain?
"Can you tell me about your previous jobs?"
Answers
میں نے نیشنل بینک میں چھ سال کام کیا ہے۔
mei nay national bank mei chay saal kam kia hai.
"I have worked at the National Bank for six years."
میں مائیکرو سوفٹ کمپنی میں پانچ سال سے کام کر رہا/رہی ہوں۔
mei Microsoft company mein panch saal say kam kar raha/rahi hun.
"I have been working for Microsoft for five years."
Remember that if you're answering these questions as a male, use رہا ہوں (raha hun); if you're answering as a female, use رہی ہوں (rahi hun).
C- The Languages You Speak
Especially when you're interviewing for a job in a foreign country, the interviewer will likely want to know which languages you speak. 
Questions
آپ کتنی زبانیں بول سکتے ہیں؟
aap kitni zubane bol saktay hain?
"How many languages can you speak?"
آپ کو کتنی زبانوں پر عبور حاصل ہے؟
aap ko kitni zubano per aboor hasil hai?
"How many languages are you adept at?"
Answers
میں انگریزی اور اردو فراوانی سے بول سکتا/سکتی ہوں۔
mei angrezi aur urdu farawani say bol sakta/sakti hun.
"I can speak English and Urdu fluently."
In this case, if you're answering as a male, use سکتا ہوں (sakta hun); if you're answering as a female, use سکتی ہوں (sakti hun).
مجھے جاپانی اور اردو پر عبور حاصل ہے۔
mujhe japani aur urdu par aboor hasil hai.
"I am adept at Japanese and Urdu."
D- How to Ask an Interviewer to Repeat a Question
If you couldn't hear or were unable to understand a question your interviewer asked, you could use the following expressions to have them repeat what they said.
معاف کیجیے گا، میں آپ کی بات سن نہیں پایا۔
muaf kijiye ga, mei aap ki baat sun nahi paya.
"I am sorry, I could not hear you."
کیا آپ اپنا سوال دوہرا سکتے ہیں؟
kia aap apna sawal dohra saktay hain?
"I beg your pardon?"
معذرت کے ساتھ، میں آپ کی بات سمجھ نہیں پایا۔
maazrat kay sath, mei aap ki baat samajh nahi paya.
"With a due apology, I could not understand you."
4. Interacting with Coworkers
Interaction with coworkers is a significant aspect of doing good business, and in Pakistan, communicating with confidence will place you at a vantage point. Below are a few expressions for interacting with your coworkers in the Urdu language.
A- How to Ask for Help
Here are some phrases you can use to ask your colleagues for help with something:
کیا آپ میری مدد کر سکتے ہیں؟
kia aap meri madad kar saktay hain?
"Can you help me?"
کیا آپ اس کی وضاحت کریں گے؟
kia aap iis ki wazahat karain gay?
"Will you explain it?"
میں اس دستاویز کو سمجھ نہیں پایا۔
mei is dastawaiz ko samajh nahi paya.
"I could not comprehend this document."
کیا آپ اس سسٹم کو چلانا جانتے ہیں؟
kia aap is system ko chalana jantay hain.
"Do you know how to run this system?"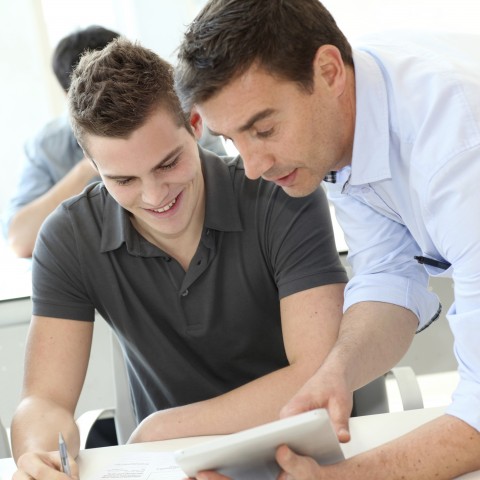 B- How to Thank or Congratulate Your Coworkers
When your partner does a great job on a project or a colleague gives you a hand with something, it's always polite to congratulate or thank them. 
آپ کی مدد کا شکریہ۔
aap ki madad ka shukriya.
"Thank you for your help."
میں آپ کا احسان مند ہوں۔
mei aap ka ahsan mand hun.
"I am thankful to you."
بہت خوب۔
bohat khoob.
"Well done."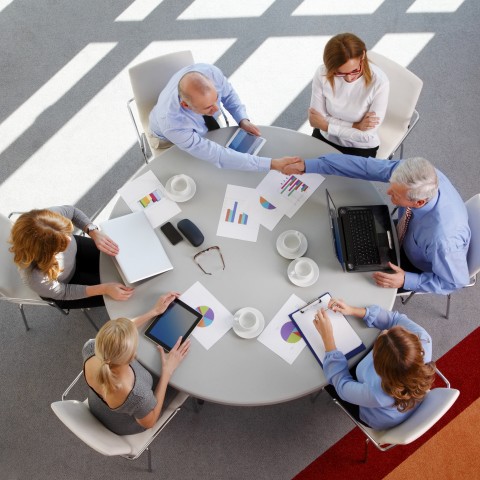 C- How to Apologize
In the business world, there are some situations that require an honest apology. If you find yourself in such a situation, use the following Urdu phrases to apologize without compromising your dignity.
→ Don't forget that you can find more apology phrases in our lesson Apologies in Urdu.
میں معذرت چاہتا ہوں۔
mei mazrat chahta hun.
"I apologize."
میں معافی چاہتا ہوں۔
mei mafi chahta hun.
"I am sorry."
معاف کیجئے گا، میں آپ کی مدد نہیں کر پایا۔
maaf kijiye ga, mei aap ki madad nahi kar paya.
"I am sorry, I could not help you."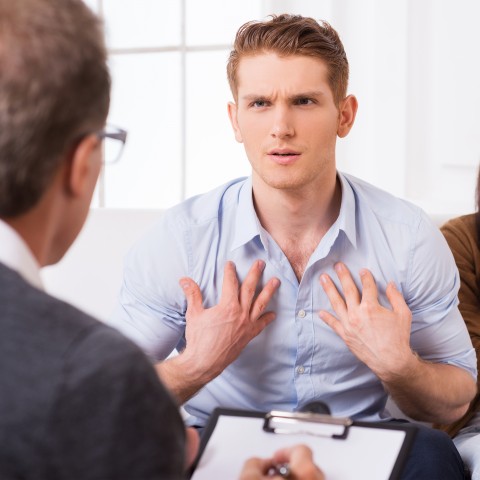 D- How to Give Your Opinions or Suggestions
There are certainly benefits in being able to communicate your opinions and suggestions in a business meeting. In addition to making your voice heard, doing so may pave new paths for your professional development and growth. Below is some useful Urdu for business meetings.
یہ کام انسانی وسائل کے شعبے کا ہے۔
yeh kam insani wasayal kay shobay ka hai.
"This job belongs to the human resources department."
ہم اسے کسی تیسرے فریق سے کروا سکتے ہیں۔
hum isay kisi teesray fareeq say karwa saktay hain.
"We can get it done by a third party."
یہ سودا ہمارے ادارے کو نقصان پہنچا سکتا ہے۔
yeh soda hamaray idaray ko nuqsan pohancha sakta hai.
"This deal may cause a loss to our organization."
E- How to Express Your Concern
In business meetings, it's crucial that you can express your concerns or reservations. Doing so can add another plume in your career and open new avenues of success for you.
اس کام کے لئے مقررہ وقت بہت کم ہے۔
iss kam kay liye muqar-ra waqt bohat kam hai.
"The time specified for this task is too short."
ہمارے پاس اتنا بجٹ نہیں ہے۔
hamaray pas itna budget nahi hai.
"We do not have this much budget."
یہ کام اتنے وقت میں نہیں کیا جا سکتا۔
yeh kaam itnay waqt mei nahi kia ja sakta.
"This job can't be completed in the given time."
مجھے اس کام میں مہارت حاصل نہیں ہے۔
mujhe iss kam mei maharat hasil nahi hai.
"I am not skillful in this job."
اس کام کے لئے بہت زیادہ وسائل درکار ہیں۔
iss kam kay liye bohat zayada wasail darkar hain.
"This job requires too many resources."
5. Handling Business Phone Calls and Emails
Depending on where you work, business communication in the Urdu language may be part and parcel of your position. In case you need to make business phone calls or manage emails, the following phrases will be useful for you.
A- Business Phone Calls
کیا میں مینیجر صاحب سے بات کر سکتا/سکتی ہوں؟
kia mei manager sahib say baat kar sakta/sakti hun?
"Can I speak to the manager?"
کیا سجاد صاحب سے میری بات ہو سکتی ہے؟
kia Sajjad sahib say meri baat ho sakti hai?
"Can I talk to Mr. Sajjad?"
میں حسین صاحب سے بات کرنے کی کوشش کر رہا ہوں۔
mei Hussain sahib say baat karnay ki koshish kar raha hun.
"I am trying to reach Mr. Hussain."
کیا آپ رجسٹرار صاحب سے میری بات کروا سکتے ہیں؟
kia aap registrar sahib say meri baat karwa saktay hain?
"Can you connect me to the Registrar?"
How to Reply
میرے ساتھ رہئے گا۔
meray saath rahiye ga.
"Stay with me."
میں ابھی آپ کی بات کروا دیتا/دیتی ہوں۔
mei abhi aap ki baat karwa deta/deti hun.
"I will connect you right now."
مہربانی فرما کر مجھے پیغام دے دیں، میں ان تک پہنچا دوں گا/گی۔
meharbani farma kar mujhe pegham de dain, mei un tak pohancha dun ga / gi.
"Please leave the message, I'll convey it to him."
کیا آپ تھوڑی دیر بعد کال کر سکتے ہیں؟
kia aap thori der baad call kar saktay hain?
"Can you call back in a short while?"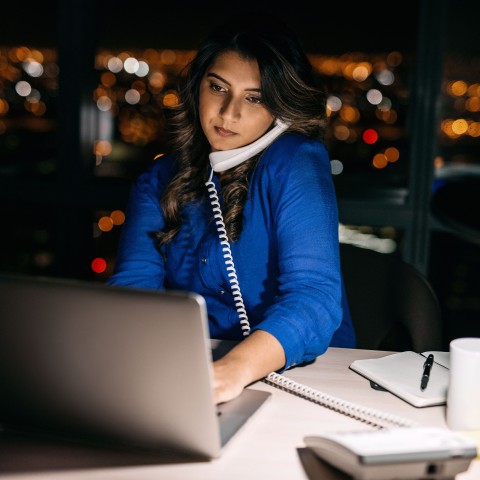 B- Emails and Letters
It's no secret that the era of letter writing has passed and been superseded by electronic mail, particularly in the business sector. Of course, there are still certain situations that call for a traditional business letter, though you'll find yourself using email far more often as an employee in Pakistan. 
Whether you're writing an official email or a business letter, always remember to include the following components.
Personal Information (Name, Address, Contact Number, Email) of Sender and Receiver
When you're sending the initial email, first type your own information. This includes:
Your name
Your business address
A valid contact number
Your email address
Next, include the details of the receiver. Besides the aforementioned information, try to include that person's job title.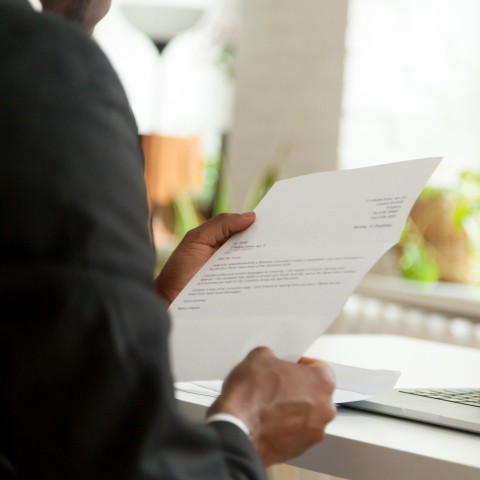 Below are some Urdu words that are often used in business correspondence:
نام
naam
"Name"
پتہ
pata
"Address"
رابطہ نمبر
rabta number
"Contact number"
ای میل
email
"Email"
عہدہ
uhda
"Designation"
Subject
Don't forget to include an apt subject for your letter or email to let the receiver know its nature.
عنوان
unwan
"Subject"
Salutations
Let's have a look at a couple of widely used Urdu salutations:
جناب
janab
"Sir"
محترم
mohtram
"Respected"
Closure
Close your letter or email by using words that express your respect or affection.
آپ کا مخلص
aap ka mukhlis
"Yours sincerely"
آپ کا خیر خواہ
aap ka khair khwah
"Your well-wisher"
6. Going on a Business Trip
Many employees of successful business enterprises must travel frequently to meet with clients. If you're traveling to Pakistan, we recommend that you memorize a few practical Urdu sentences to avoid any inconveniences.
A- How to Book a Hotel and Purchase Tickets
To book a room in a hotel or get a ticket reserved, take advantage of the following expressions.
کیا مجھے آپ کے ہوٹل میں دو دن کے لئے ایک کمرہ مل سکتا ہے؟
kia mujhe aap kay hotel mei do din kay liye aik kamrah mil sakta hai?
"Can I have a room for two days at your hotel?"
کیا مجھے لاہور سے کراچی کی دو ٹکٹیں مل سکتی ہیں؟
kia mujhe Lahore say Karachi ki do ticketain mil sakti hain?
"Can I have two tickets from Lahore to Karachi?"
B- How to Thank a Partner or Client
Showing politeness and gratitude toward your business partner and other associates can take your business relationship to the next level. Here are some phrases you can use to thank them.
میں آپ کی میزبانی کا گرویدہ ہو گیا ہوں۔
mei aap ki mezbani ka garwidah ho gaya hun.
"I have been completely enamored with your hospitality."
آپ کی میزبانی کا بہت شکریہ۔
aap ki mezbani ka bohat shukriya.
"Thank you for your hospitality."
میں آپ کی میزبانی کبھی بھی نہ بھلا سکوں گا۔
mei aap ki mezbani kabhi bhi na bhula saku ga.
"I will never be able to forget your hospitality."
7. Conclusion
In this article, UrduPod101.com introduced you to the basic Urdu business phrases you need to do business in Pakistan, and other useful vocabulary.
Now, are you prepared to surprise your Pakistani business partners? If yes, best of luck! On the other hand, if you have any queries or questions, do write to us; we'll respond at the earliest.
If you're serious about mastering Urdu, but haven't found a good fit for you, keep exploring UrduPod101.com. We are a great repository of Urdu language learning materials and provide an outside-the-classroom feeling. We guarantee you'll feel the difference.
Very Happy Urdu Learning!