We've all heard the cliché that the way to a man's heart is through his stomach. 
But are you familiar with the following words from George Bernard Shaw? 
"There is no love sincerer than the love of food." 
Or these from Virginia Woolf? 
"One cannot think well, love well, sleep well, if one has not dined well."
Considering the significant role that food plays in our lives, we've decided to compose an entire article dedicated to Pakistani food and cuisine. In this article, you'll learn about a variety of traditional Pakistani dishes, from Pakistani street food to recipes you can make at home. You'll also discover some facts about Pakistani food culture and pick up essential food-related vocabulary. 
Let's dig in.
Table of Contents
1. Must-Try Dishes in Pakistani Restaurants
A superb way to begin is with some widely popular Desi dishes of Pakistan. You'll find them available at just about any Pakistani restaurant, with few exceptions.
چکن/مٹن کڑاہی (Chicken/Mutton Karahi)
Chicken or mutton Karahi is one of the most popular main courses in Pakistani restaurants. Karahi refers to the cookware the meal is cooked (and sometimes also served) in. It's a metal pan, often made of iron, with a flattened base.
The meat (either chicken or mutton) is fried in an open fire until tender, usually right in front of the customers. Seeing the meat cooked in front of you makes the dish more desirable. The main ingredients include: 
Chicken/Mutton (cut into small pieces)
Tomatoes
Onions
Ginger
Chilis
Lemon 
Common spices include coriander, pepper powder, cumin seeds, and red button chilis.
The meat can be served with butter, and many Desi foodies love to have it cooked in desi ghee which makes the meal very authentically Desi. The best time to have this dish is in the evening, though it's also served in the afternoon.

Of course, روٹی (roti) and نان (naan) are Pakistani food staples that will always be present at the table. Enjoy your karahi with a crispy Roti or Nan.
 (Nihari)
Nihari, another Desi delicacy, is said to have been the recipe of the eighteenth century. It's associated with the Nawabs of the Indian subcontinent. Since, etymologically, the word is derived from the Urdu word نہار (nihar) meaning "morning," it's clear to see that the best time to enjoy this dish is in the morning at breakfast time.
On average, it takes 6-8 hours to cook beef Nihari, though the time frame may change for lamb or chicken. This dish's main ingredients are:
Meat
Onion
Ginger-garlic paste
Chili paste
Yogurt
Wheat flour
The main spices are coriander, cumin, cinnamon, salt, and cardamom. Lemon, ginger, and coriander can also be used as tasty garnishes.
 (Biryani)
The first two Pakistani dishes we described are served with Roti or Nan. Now, let's move toward something a little different: Biryani. This is a frequent main course in Pakistani homes and restaurants, easily identified by the unique aroma of Pakistani Basmati rice.
Its main ingredient is rice boiled in water, and you can add chicken, mutton, or beef depending on your preferences. This dish features a range of flavors from spices like: 
Green chili paste
Ginger-garlic paste
Coriander
Cumin
Yogurt
Black pepper
Bay leaf
Note that this dish has a completely different taste and texture when cooked in the cauldron! 

Biryani recipe
 (Haleem)
Haleem is another must-eat Pakistani Desi dish. Beef is usually the main ingredient, but you can replace it with chicken or mutton. This dish also includes grains and lentils, including rice, mixed lentils, barley, and wheat. 
Cumin, coriander, cardamom, and cinnamon are commonly used to flavor haleem. Popular garnishes include chopped ginger, fried onion, green chilis, and lemon wedges.
 (Sajji)
It's not unusual to see whole chickens being barbecued at small 'Sajji corners' throughout Pakistan. Sajji is a common delicacy everywhere in the country. That said, you should expect a little bit of variation in the recipe and ingredients depending on the region.
Originally, Sajji was a Balochi dish from the nomads of Balochistan. But today, it's just as popular among Pakistanis all over the country. 
Sajji is barbecued on the coals; a whole chicken is grilled on the fire and served with a great deal of simplicity, with or without fried rice. Other ingredients and spices used in this simple meal include: 
Vinegar
Ginger-garlic paste
Black pepper
Cardamom
Cumin
Coriander
Garlic
Cinnamon
 (Chapli Kabab)
The authentic Pakistani cuisine item chapli kabab, also called Chappal kabab, is a delicacy of Khyber Pakhtunkhwa (the Northern Western province of Pakistan). The city of Peshawar is the most famous place to order chapli kabab in the country. 
The most important ingredient in this dish is mince of mutton or beef, preferably with a reasonable amount of fat. Other essentials include:
Onion
Ginger
Garlic
Tomato
Coriander
Chilis 
After marinating the mixture for an hour or two, the kababs are ready to be fried and enjoyed. They're typically served with Naan or Roti.
The unique flavor and aroma of these kababs distinguish them from the rest!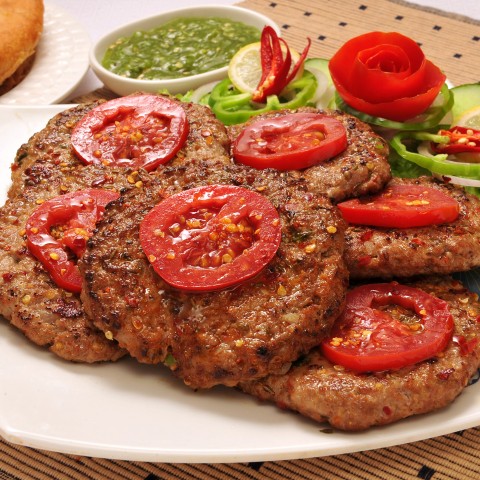 (Hareesa)
Another popular Desi Pakistani recipe, Hareesa consists of a meat, porridge, and lentil mixture. This dish demands patience; it's cooked slowly and requires constant stirring.
Beef is the ideal meat for this delicacy, though people may use lamb or chicken instead. It's also worth noting that three types of lentils are used: channa, moong, and maash. 
Although it looks like gravy, Hareesa is ultimately unique from other Desi gravies in its taste and texture. When it's ready, some chefs add kababs or koftas (meatballs) to it to make it thicker. It's then served with Roti or Naan.
 (Paye)
One of the most popular Pakistani cuisine dishes, paye (goat/calf trotters) are often served as the main course at breakfast. This delicacy is normally eaten during winter, but it's easily available year-round as it's never out of demand. To prepare it, one uses goat/cow trotters and spices them with: 
Coriander
Red chili
Ginger-garlic paste
Onions
Oil
Salt
You can get ready-to-cook paye in any meat market in Pakistan. This delicacy tastes best when served fresh with lemon wedges, green coriander, and green chilis for garnish.
2. Unique Pakistani Foods
Having discussed some finger-licking main course Desi Pakistani dishes, let's expand your knowledge of Pakistani food culture. Below is a list of unique Pakistani foods that are typically used as side dishes, appetizers, desserts, or staples to be eaten with certain main course dishes.
پراٹھہ (Paratha)
In Pakistan, paratha is a staple food that can be used with curry in place of Roti or Naan. It can also be stuffed with potatoes or mince and eaten as a main course. It's made by kneading wheat flour and frying it in oil or desi ghee on a traditional tawa (a Desi utensil).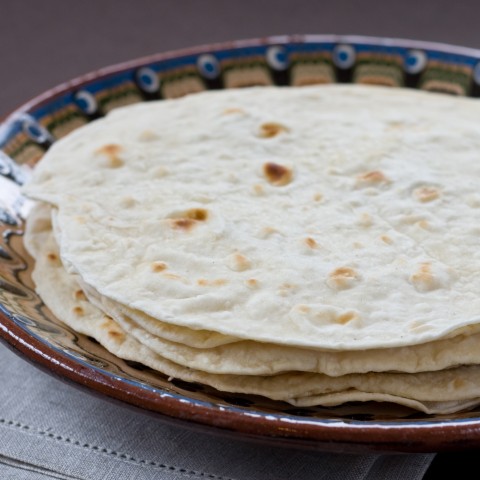 (Lassi)
Lassi is a traditional Pakistani drink, usually taken alongside breakfast. It's prepared by blending yogurt, milk, butter, and sugar or salt.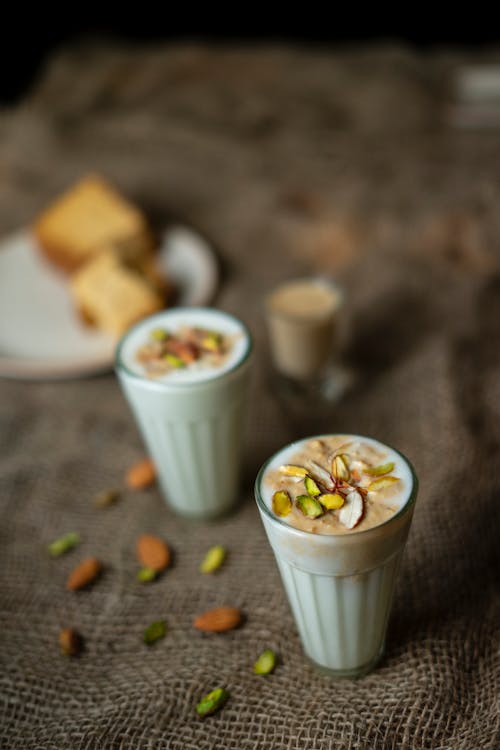 (Halwa Poori)
While visiting Pakistan, never miss Halwa Poori at breakfast; it's a real exotic specialty of Pakistani cuisine. This typical Desi breakfast consists of fried bread served with the traditional sweet dish halwa. A curry of chickpeas (channay) is another integral part of this meal.
 (Gol Gappay)
For those who love spicy foods, Gol Gappay is a must-try dish. You'll enjoy the hollow, ball-like fried Poori with the tamarind drink. You may fill the Poori with boiled chickpeas or aloo-chat to discover a range of flavors.
 (Sweets/Desserts)
We can't forget dessert. Never underestimate the power of Pakistani sweets—they're good enough to challenge any main course! There are three Pakistani desserts you really need to try on your visit:
1.  جلیبی (Jalebi)
Jalebi consists of maida flour batter that's been fried in a circular shape and then dipped in sugar syrup. This usually red-colored Pakistani sweet is a treat for the eyes and the tongue! We recommend you treat your taste buds to it during your visit.
2.  رس ملائی (Ras Malai)
Ras Malai (roughly translated to "juicy cream" in English) is a Desi Pakistani dessert consisting of milk, sugar, cream, cardamom, saffron, and pistachio.
3. گلاب جامُن (Gulab Jamun)
Gulab Jamun is known as the national sweet of Pakistan. It's prepared with dried milk (khoya), oil, and flour (maida). It's dipped in sugar syrup and flavors such as saffron, rose water, and cardamom are added to it.
3. Food-Related Vocabulary
Now that you're good and hungry for Desi Pakistani cuisine, it's time to jump into some practical vocabulary. We'll cover phrases you can use during conversations or at the restaurant, as well as other food-related words you should know!
→ For even more words and their pronunciation, you can visit our Food vocabulary list.
Basic Phrases
مجھے سخت بھوک لگی ہے۔
Mujhe sakht bhook lagi hai.
I am very hungry.
مجھے بھوک نہیں ہے۔
Mujhe bhook nahi hai.
I am not hungry.
مجھے لسّی پسند ہے۔
Mujhe lassi pasand hai.
I like lassi.
مجھے سلاد پسند نہیں ہے۔
Mujhe salaad pasand nahi hai.
I don't like salad.
میں گوشت نہیں کھاتا۔
Mei gosht nahi khata.
I don't eat meat.
مجھے سی فوڈ سے الرجی ہے۔
Mujhe seafood se allergy hai.
I am allergic to seafood.
میرا پسندیدہ کھانا پلاؤ ہے۔
Mera pasandeeda khana pulao hai.
My favorite dish is pulao.
Ingredients
Whether you plan on reading through some Pakistani food recipes in Urdu or just want to add to your core vocabulary, these ingredient words will come in handy.
چینی (cheeni) – sugar
نمک (namak) – salt
لال مرچ (lal mirch) – red chili
کالی مرچ (kaali mirch) – pepper
تیل (teil) – oil
دودھ (doodh) – milk
پانی (pani) – water
آٹا (aata) – flour
پھل (phal) – fruit
گوشت (gosht) – meat
سبزی (sabzi) – vegetable
Utensils
You should also be familiar with the names of common cooking utensils:
کڑاہی (karrahi) – a type of Desi cooking pan
تندور (tandoor) – a type of Desi oven
دیگ (deig) – cauldron
چاقو (chaqoo) – knife
To learn more utensil-related vocabulary, please visit our vocabulary list for Talking About Utensils and Tableware in Urdu. 
Cooking Verbs
Here are a few cooking verbs you'll come across often in recipes:
پکانا (pakana) – to cook
تلنا (talna) – to fry
کاٹنا (katna) – to cut
چیلنا (cheelna) – to peel
You can find more useful words and their pronunciations on our list of Essential Vocabulary About Cooking. 
How to Order at a Restaurant
Learn the following Urdu sentences to impress the crew of a Pakistani restaurant with your Urdu speaking skills.
مینو لائیں۔
menu layain
Bring the menu.
آپ کھانا کتنی دیر میں لاؤ گے؟
aap khana kitni der mei lao gey?
How much time will you take to bring food?
بِِل لے آئیں۔
bill le ayain.
Bill, please.
To learn more relevant phrases, please visit our list of the Most Useful Phrases and Vocabulary for Ordering Food in Urdu.
4. Cultural Tips Regarding Food in Pakistan
Because Pakistan is an Islamic country, it has some cultural specificities concerning food. Let's wade through these customs together so you can become familiar with them and respect them while in Pakistan.
Remember to Ask for Hilal Food Only
Pakistani society is traditionally orthodox and Islamic, so you should never ask for any food item that's not Hilal. If you insist on doing so, you'll have to face the music. We recommend that you don't do this under any circumstances.
Hospitality in Pakistan
Because Pakistan is a tradition-bound society, you'll find that the majority of the population follows the tradition of hospitality. If you're a guest, they'll go out of their way to entertain you. 
On a side note, if you have a Pakistani host who has invited you to a meal, do not try to pay the bill. He will take this as a token of discourtesy.
5. Conclusion
In this article, you've learned about the most popular Pakistani foods, relevant vocabulary, and crucial Pakistani food customs.
Are you ready to order your favorite Pakistani dish in Urdu? Have we answered all your questions? If we missed anything, please let us know in the comments and we'll get back to you as soon as possible.
Continue exploring UrduPod101.com to speed up your Urdu language learning process. Our website is a huge compendium of Urdu language learning resources that will prove useful in improving your Urdu vocabulary, pronunciation, grammar, and more.
Very Happy Urdu Learning!